West Marin Metric Century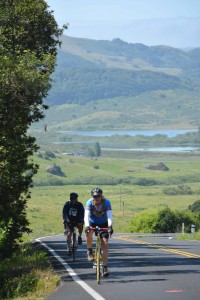 The West Marin Metric Century Ride is for the more serious rider wanting the challenges of hill climbing and a 100 km distance. See the Route Maps page for a map of the course.
Ride Start - 7:00 am downtown Novato at Grant & Sherman, near City Hall, 901 Sherman Ave., Novato, 94945
Directions to Start - From Highway 101 in Novato, take the De Long exit, go West on De Long for 0.3 miles, turn right at the first light onto Reichert Ave. Parking is available on side streets. Please DO NOT park on Grant Ave or on the other side of the railroad tracks (the trains are running).
Route Support - School Fuel has recruited several volunteers to provide basic First Aid support at the Start/Finish and at all of the rest stops on the West Marin Metric Century route.
SAG Wagons - The Bank of Marin SAG Wagons will be supporting the West Marin Metric Century route in their distinctive Priuses (or is that Prii?) should you need any help along the way. They will be equipped with tools and repair kits courtesy of Bicycle Brüstop to help you with minor repairs.
Communications - Every rider should carry a cell phone, if possible, in case of emergencies.  But, because cell reception is spotty in West Marin, the Marin County Radio Amateur Civil Emergency Service (RACES) will be supplementing communications on the Metric Century Route. This communication network is for facilitating the administration of the event and handling emergencies. If you just want to let the folks at home know you made it Tomales, it can wait until you have a cell signal.
Rest Stops - Most of the rest stops will have some combination of fresh fruit, nuts, peanut butter, jam, cream cheese, bagels, crackers, cookies, nutrition bars, water, sodas, drinks, etc.  School Fuel will provide an included post-ride meal for all riders (and volunteers) at the Finish.  This year's options feature Stemple Creek Ranch's locally grown, organic, grass fed beef. This includes BBQ Beef Sandwiches and 1/3# Burgers for adults. There will also be Grilled Chicken Sliders, a Vegan option and a variety of great salads. The food will be available from 10:00 am to 2:00 pm. Participants that fundraise $500 or more will have enhanced meal options, including Korean Short Ribs, Grilled Salmon Burgers, and more...
Rest Stops are paced 10 - 25 miles apart and are located at:
Laguna School (mile 15), Open from 7:30 - 10:00 am
Keys Creek Access (mile 33), Open 9:00 am - Noon
Walker Creek Ranch (mile 45),  Open 10:00 am - 12:30 pm
Restrooms - There will be portable or fixed restrooms at all Rest Stops. The open times for all rest stops are based upon the potential for a rider to reach the rest stop if averaging 12 - 15 mph. If you start early or are riding faster than 17 mph you may outrun a rest stop or two.
Route Markers - Route markers for this route are red.
PLEASE NOTE: YOU SHOULD BE TRAINED AND FIT TO ATTEMPT THIS RIDE. THIS COURSE INCLUDES STEEP UPHILL CLIMBS AND STEEP TECHNICAL DESCENTS. WHILE YOU DO NOT NEED TO BE AN EXPERT CYCLIST, THESE COURSES ARE NOT FOR BEGINNERS. WE ATTEMPT TO PROVIDE A CHALLENGING COURSE, BUT CANNOT GUARANTEE THE ROAD CONDITION ON THE DAY OF THE RIDE. THERE CAN BE GRAVEL, ROCKS AND GLASS ON THE ROAD. YOU MAY BE RIDING WITH CARS AND OTHER BIKES THAT ARE BEING OPERATED RECKLESSLY. ANY RIDER SEEN TO BE OPERATING THEIR BIKE UNSAFELY IN ANY WAY, CAN AND WILL BE PULLED FROM THE RIDE AND DISQUALIFIED. YOU MUST HAVE SAFE CONTROL OF YOUR BIKE AT ALL TIMES.
For any questions about the West Marin Metric Century, please contact us at .(mle 15)