Log in to your account to record your visit to this Discovery Stop.
Log In
Discovery Stop
Hamilton Field History Museum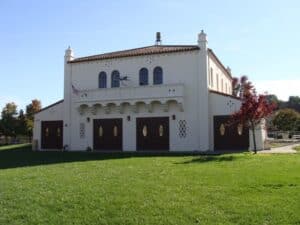 The Hamilton Field History Museum is located in the historic 1934 fire house of the former Hamilton Field in Novato at 555 Hanger Avenue.  This museum provides a look into the history of the airfield from its opening in 1935 until its closure in 1974.  The Hamilton posting was a choice posting for most of its history!
Inside and around the exterior of the Museum are hundreds of artifacts from the base's heydey including photos, uniforms and a cockpit simulator.  Museum volunteers also host an informative facebook page with regular posts of historic photos, facts, descriptions of items in their collection.  If you want to visit the Museum during open hours, you should plan to visit on a Wednesday, Thursday or Saturday between noon and 4:00 pm.
The photo below shows the base on approach to the landing strip in 1970.  Mount Burdell is visible in the background.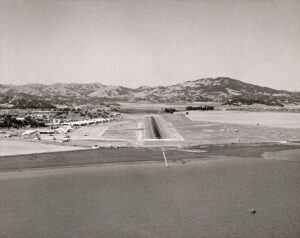 Extra Credit challenge:  Although the Airforce Base is now closed, there is still one active military branch with operations at Hamilton, located in Hangars 1 and 2.  Can you figure out what it is?
If you want to walk
The Hamilton Field History Museum is located across from Hangars 3 & 4 of the historic base.  If you are looking for a walk, there is an entrance to the Hamilton Wetlands Trail across from hangars 5 & 7.  Just look for the historic control tower.
If you want to bike
Bikes are permitted on the Hamilton Wetlands trails.
Parking considerations
Parking is free and plentiful in the parking lots by the former Air Force Hangers.
Dogs
Dogs are permitted to be on leash on the wetland trails.  Dogs are not allowed off trail to protect the wildlife.