Log in to your account to record your visit to this Discovery Stop.
Log In
Discovery Stop
Hill Recreation Area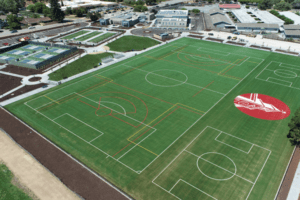 The recently renovated Hill Recreation Area, is a City of Novato park located at 1520 Hill Rd., adjacent to the Margaret Todd Senior Center.  The project added new elements, including a new synthetic turf field, six bocce ball courts, six pickleball courts, a grass field, accessible walkways, new plaza spaces, additional accessible parking spaces and electric vehicle charging stations, four chess and checkers tables, upgraded water fountains and restrooms.
If you would like more information about the park, or use of its facilities, you can visit the park's webpage.
Extra Credit challenge:  Play a game of pickleball or bocce (check the webpage for information about court availability and equipment).
If you want to walk
Hill Recreation Area is located only a mile from Downtown Novato.  There is good access for wheelchairs and strollers on cement path that circles the park.
If you want to bike
Bikes are permitted on the park trails.
Parking considerations
Parking is free in the parking lot.  There are also charging stations for electric vehicles.
Dogs
Dogs are permitted in the park.