Log in to your account to record your visit to this Discovery Stop.
Log In
Discovery Stop
Miwok Park/Museum of the American Indian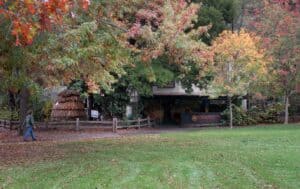 Miwok Park is a City of Novato park located at 2200 Novato Boulevard.  The Park is named for local Indigenous people, and serves as the home to the Museum of the American Indian.  The museum is currently closed due to COVID restrictions, but many exhibits can be seen at the museum website.  A replica of a traditional Miwok home has been constructed outside of the museum, as well as a garden with plants that were important to the Miwok.
The park covers 22 acres and features a walk along a creek and through bay laurels and redwoods. There is a large play structure and picnic area, a wide grassy lawn, and two bocce courts.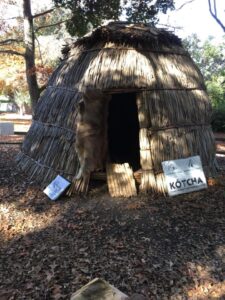 If you would like more information about the park, or use of its facilities, you can visit the park's webpage. There is also a map of the park you can download,
Extra Credit challenge:  Watch this video produced by the museum that gives an overview of the history of Indigenous people in Northern California from the Missions to the Gold Rush. This video is not graphic, but includes an important discussion of the cruelty inflicted upon Indigenous people.
If you want to walk
Miwok Park is located less than a mile from Downtown Novato on Novato Boulevard.  There is good access for wheelchairs and strollers on the paths in the park.  There is also a pedestrian entrance on San Miguel Way.
If you want to bike
Bikes are permitted on the park trails.
Parking considerations
Parking is free, but there are limited spots in the parking lot.
Dogs
Dogs are permitted in the park.