Log in to your account to record your visit to this Discovery Stop.
Log In
Discovery Stop
Novato City Hall, Administration Building and Police Department

Novato's City Hall is located at the intersection of DeLong and Sherman Ave. in a building that was originally the Novato Presbyterian Church.  Currently, the City Hall serves as a meeting space, while the City Administration Building located across the green from City Hall houses many of the city offices.  The patio at City Hall has many bricks that were purchased by community members with special dedications.  There are also bricks honoring past local leaders. Can you find anyone you know listed on a brick?  You can find out more about the City of Novato, services offered to residents, and find out about some of the community members who have been honored by the Novato Proud program on the City of Novato website.
On the other side of Machin Ave. from the Novato Administration Building, is the headquarters for the Novato Police Department.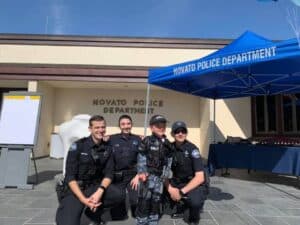 If you want to walk
The Downtown Novato area has good sidewalks and traffic signals, and the terrain is not too hilly.  There are some busy streets in the area, so please keep small children close.  There are several stores, restaurants offering outside dining, coffee shops, and tasting rooms in the area.
If you want to bike
This is an area with a fairly high number of intersections and vehicle traffic, so keep that in mind.  There are plenty of options for bike parking, and even a couple of stores that cater to bike needs.
Parking considerations
Public parking is plentiful and free in Downtown Novato.  Did you know that there are even parking spots underneath the City Administration Building that are open to the public after 5:00 pm on weekdays and all day on weekends?  Most of the spots in the public lots and on the primary streets have a two-hour parking limit.  Also, please note that many of the spots directly in front of restaurants are limited to pick ups and deliveries.