Log in to your account to record your visit to this Discovery Stop.
Log In
Discovery Stop
Pacheco Valle Preserve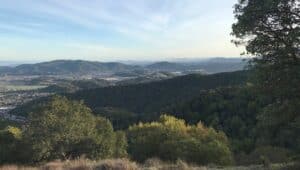 The Pacheco Valle Preserve is a 519-acre preserve surrounding Pacheco Creek on the southern border of Novato.  The ridgeline trails will reward you with spectacular views of the surrounding area.  In the valley, Pacheco Creek creates a lovely waterfall that is accessible via a short unpaved hiking trail from the end of Pacheco Creek Drive.
Look out for wild turkeys, who are abundant in the neighborhood.  Other wildlife common to the area include deer, coyote and bobcats.  There are also many lovely and very old manzanitas, oak, and madrone.  The steep banks on the northern slopes are covered in ferns in the spring.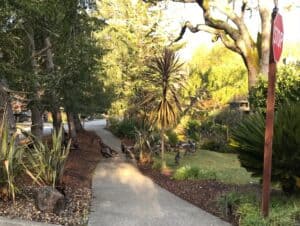 You can download a trail map from Marin County Parks and Open Space to help choose your adventure in the preserve.  You can make a loop of the ridge lines using Ponti Ridge Trail and the Chicken Shack Trail, stick to the valley below, or connect to the adjacent Loma Verde, Ignacio Valley and Lucas Valley Preserves.
Extra Credit challenge:  Just north of the Pacheco Valle Preserve along Alameda Del Prado is the original ranch house from the Pacheco Ranch.  The ranch is still owned by the descendants of the original Spanish Land Grant recipient.  You can read more about the history of this ranch in this article prepared by the Marin History Museum.  Here is a picture of the house as it looked in 1881.  Can you find it in real life?
If you want to walk
Hiking is a great activity in the Pacheco Valle Preserve.  The ridgeline trails are steep, but very rewarding with amazing views of the bay and southern Marin.  If you are looking for a less-steep option, there are much slighter grades along the sidewalks in the Pacheco Valle neighborhood.
If you want to bike
Mountain bikes are permitted on the fire roads and trails in the Pacheco Valle Preserve.  The Ponti Fire Road has been regraded in the last year, so there are now more switchbacks, and a gentler climb than the one show on the Marin County Parks map.
Parking considerations
There is plentiful and free parking at the Alameda Del Prado Park-n-Ride lot near highway 101.  The trail entrance to both the Bill Schlegel Trail and the Chicken Shack Fire Road are just across Alameda Del Prado from the parking lot.
Dogs
Dogs are permitted to be under voice control or leash on the fire roads.  Dogs must be on leash on the trails.  Bobcats and coyotes are both residents in this area, so keep your pets within sight.