Log in to your account to record your visit to this Discovery Stop.
Log In
Discovery Stop
Pioneer Park
Pioneer Park is a City of Novato park located at 1007 Simmons Ave.  This park is very popular with the local community for its large play structure, wide grassy areas, picnic areas, public tennis courts, and pretty gazebo.
The park covers nine acres and is bordered by a creek to the north and residential areas on the other three sides.  A paved walkway meanders through the grounds up to the historic cemetery on the top of a knoll where many early European settlers are buried.  This cemetery is the source of the park name.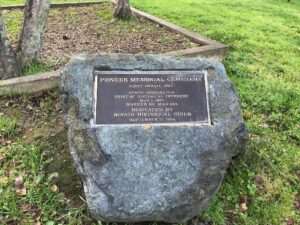 This marker showing the designation of the site as an area of historical interest marks the entrance to the cemetery area.
If you would like more information about the park, or use of its facilities, you can visit the park's webpage.
Extra Credit challenge:  Take a look at the grave markers in the cemetery.  Which is the oldest?  Which is the most recent? How is this cemetery similar or different from others you have seen?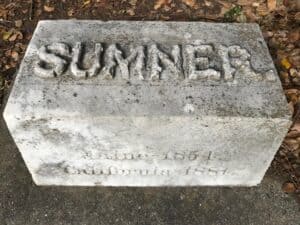 If you want to walk
Pioneer Park is located only a mile from Downtown Novato.  There is good access for wheelchairs and strollers on the paths in the park.
If you want to bike
Bikes are permitted on the park trails.
Parking considerations
Parking is free, but there are limited spots in the parking lot.
Dogs
Dogs are permitted in the park.