Log in to your account to record your visit to this Discovery Stop.
Log In
Discovery Stop
Rush Creek Open Space Preserve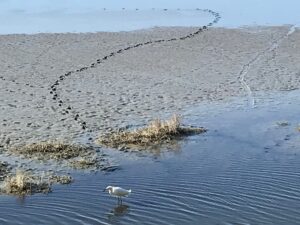 At the northeastern edge of Novato, is the Rush Creek Open Space Preserve.  This 522-acre preserve stretches from the intersection of Atherton Ave. and Highway 101 through wetlands and hills overlooking the Petaluma River delta.  The Pinhiero Fire Road is the main route through the preserve, and is popular with hikers, bikers, and equestrians alike.
The wetlands and oak forest attract a wide variety of birds.  This is a great place to observe ducks, shore birds, egrets, and herons. Great Horned owls can often be heard in the trees.  Hawks, kestrels, kites, and vultures are often seen surfing the air currents overhead.  Download a trail map from Marin County Parks and Open Space to figure out your best route.  There is parking along Binford Rd. at the Western end of the trail.  Or you can access the trails from the Eastern entrance at the end of Bugeia Lane.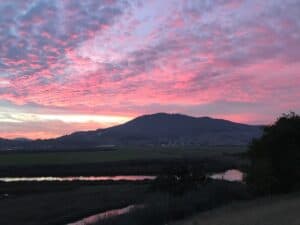 The wetlands of Rush Creek are a wonderful spot from which to view a sunset. The water in the foreground takes on the color of the sky, while Mount Burdell rises up to meet the clouds.  It is not surprising that Rush Creek Open Space Preserve is also a popular site with photographers.
During the spring months, Rush Creek is also great for spotting a variety of reptiles, mammals, and amphibians.  Alligator lizards are often spotted on the hill paths, and coyote and deer are regular visitors.  You may find different species of ferns, mushrooms, and wildflowers blooming.  This iNaturalist checklist will give you an idea of some of the species you might find.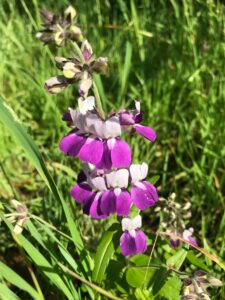 Extra Credit challenge:  Take a photo of your favorite find or view and share it with us.  Post photos on social media and tag School Fuel, or email them to .
If you want to walk
There are more than five miles of relatively flat walking trails along the marshes and river delta.  In addition, there are some steeper trails that will take you up along the ridgeline.
If you want to bike
Bikes are permitted on the Rush Creek Preserves fire roads and trails.  Please be considerate of the equestrians who are also frequently on these trails.
Parking considerations
Parking is free at both ends of the Rush Creek Preserve.  Parking is available along the street on Binford Road, in the Atherton Park and Ride lot, or at the end of Bugeia Lane.
Dogs
Dogs are permitted to be on leash on the wetland trails.  Dogs are not allowed off trail to protect the wildlife.