Log in to your account to record your visit to this Discovery Stop.
Log In
Discovery Stop
Stafford Lake Park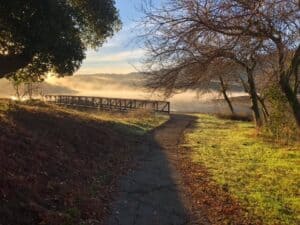 Stafford Lake Park is located on Novato Boulevard about 3 miles west of downtown Novato.  The lake is a reservoir that is also a source of drinking water for the North Marin Water District.  You can see the dam at the southwestern end of the lake. The road to the entrance of Indian Valley Golf Club actually crosses the dam on its way to the clubhouse.
At Stafford Lake Park, there are 139 acres of parkland to explore.  You can enjoy hiking, an 18-hole disc golf course, a playground and the Stafford Lake Bike Park.  Fishing from shore is also allowed, and licenses are not required for children younger than 16.
The entrance fee is $5 per vehicle.  But there is no charge to enter on foot or by bike.  Did you know that if you have a Marin County Free Library card, you can check out a park permit for free at any Marin Country Free Library?
T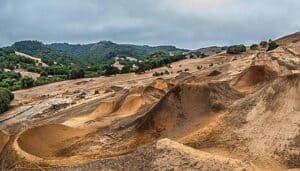 he Stafford Lake Bike Park is the most recent addition to this county park.  It offers some of the best terrain for mountain biking west of Truckee.  You can find out more about the bike park at this link.  Please check the park website before you go to make sure that the Bike Park is open.  Sometimes weather and maintenance cause temporary closures.  Also make sure to check out the park safety rules and wear the required gear when you ride.
Extra Credit challenge:  Hike the 1.68 mile Terwiliger Nature Trail.  Note bikes are not permitted on this trail.
If you want to walk
There are more than 3 miles of hiking trails at Stafford Lake Park.  There is also a paved bike and pedestrian path between Stafford Lake Park and the intersection of Novato Boulevard and San Marin.
If you want to bike
There is a paved bike and pedestrian path leading to Stafford Lake park, and some paved roads within the park, in addition to the dirt terrain park that is part of the Stafford Lake Bike Park.
Parking considerations
There is plenty of parking at Stafford Lake Park.  The charge is $5 per vehicle if you do not have a park pass.
Dogs
Dogs are not permitted at Stafford Lake Park with the exception of service animals.