Log in to your account to record your visit to this Discovery Stop.
Log In
Discovery Stop
Hamilton Wetlands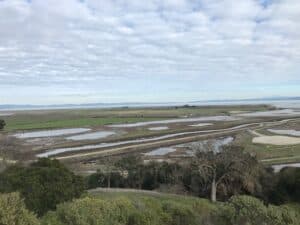 The Hamilton Wetlands is 750 acres of restored bay wetlands on an area that was formerly occupied by the Hamilton Field Army and later Air Force base.  Today this area is home to a growing number of native plant and bird species.  There is a wide, flat path for walking or cycling that is 2.7 miles long from end to end.
Along the path, and at the Hamilton Native Plant Nursery, you will find plaques and artwork by local fifth-grade students who have been able to partner in the conservation effort and combine this with their learning.  NCTV has put together a short video about this project by the students.
You can Download a Trail Map to give you an overview of the scope of the preserve and the viewing locations.
Look for the Discovery Stop signs at either the entrance between Hangars 5 and 7 or the entrance near Dunphy Field.
Extra Credit challenge:  Can you find any of the birds, animals or plants that match the ones you see on the signs at the lookout stations?
If you want to walk
Flat walking trails run along 2.7 miles of the bay here.  The paths are wheelchair and stroller accessible.  There is also a steeper hike up Reservoir Hill that will reward your effort with a panoramic view of the entire wetland.
If you want to bike
Bikes are permitted on the Hamilton Wetlands trails. A connecting trail that will take you over to the Bel Marin Keys neighborhood.
Parking considerations
Parking is free and plentiful in the parking lots by the former Air Force Hangers.  There is an entrance ramp to the hiking trail in between Hangars 5 and 7.
Dogs
Dogs are permitted to be on leash on the wetland trails.  Dogs are not allowed off trail to protect the wildlife.