Log in to your account to record your visit to this Discovery Stop.
Log In
Discovery Stop
MarinMOCA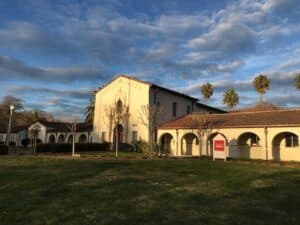 The Marin Museum of Contemporary Art (MarinMOCA) is located in the former headquarters building of Hamilton Field.  The museum complex houses three galleries, a classroom, a shop, and working studios for more than sixty local artists. There are also some lovely outdoor spaces and sculptures located on the grounds.
School Fuel has been proud to partner with MarinMOCA to help bring high quality arts instruction to elementary students for the past four school years. Teaching artists have been visiting fourth and fifth grade classrooms to provide aligned with the curriculum.  Each student has been provided with materials and instruction to produce their own art, and prior to COVID-19, they had the opportunity to take a field trip to the museum to see the galleries and studios.
You can take a virtual tour of some of MarinMOCA's prior exhibitions at this link.
Extra Credit challenge:  Take a photo of yourself or family somewhere on the grounds of MarinMOCA.  Post that photo on social media and tag School Fuel.
MarinMOCA is located at 500 Palm Drive.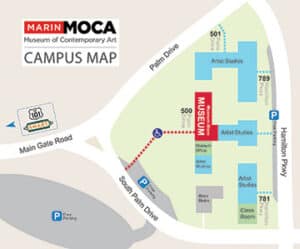 If you want to walk
The museum has wheelchair access and is also located in a flat neighborhood with easy access to walking trails.
If you want to bike
There is bike parking at the museum and there are many good biking trails nearby.
Parking considerations
Parking is free in the lots on either side of Palm Drive.