Log in to your account to record your visit to this Discovery Stop.
Log In
Discovery Stop
Mount Burdell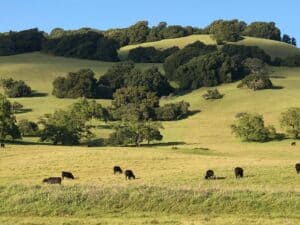 Mount Burdell is the most visible landmark in Novato.  Located on the north side of our town, the peak rises to over 1500 feet.  The upper part of the southern, eastern, and western portions of the mountain have been mostly preserved as part of the Marin County Open Space District. The San Marin Improvement Association (SMIA) and Marin County Open Space District jointly purchased the Mount Burdell Preserve (1,627 acres) in 1977. Olompoli State Park is located on the northern slope.
This mountain is a beautiful place with nature and views for miles.  But did you know that the major Miwok village of Olompais thrived for several thousand years? People lived in the sheltered valley, with abundant game and access to seafood from the nearby bay. (Olompais means "southern people." ) In 1775, an exploring party from the Presidio of San Francisco encountered Olompais, and was welcomed by the tribe's chief. Over the years, villagers integrated Spanish practices, including religious beliefs and adobe buildings. Camilo Ynitia, son of the chief, was born in 1803 and baptized with a Spanish name in San Rafael in 1819. Camilo Ynitia became the only indigenous person in Northern California to retain legal title to land after California became part of the United States.
You can download a trail map to help navigate this huge preserve.
The Discovery Stop QR-code sign is located at the San Andreas entrance.
Extra Credit challenge:  Hike or bike all of the way to the summit.
If you want to walk
Hiking is a great activity on Mount Burdell.  You can choose a route based on length using the trail map.  Views along the Eagle Rim Trail allow you to see into the north into Sonoma Valley, Mount Diablo to the southeast, and the San Fracisco Bay to the south. At the summit, a four foot high stone wall, hand laid without mortar in the 1870s by Chinese laborers, marks the boundary into Olompali Historic State Park.
During the Spring, it is a great time to visit Hidden Lake and listen for frogs.
If you want to bike
Mountain bikes are permitted on the fire roads on Mount Burdell.
Parking considerations
The most plentiful parking is along the street near the San Andreas Ave. entrance to the preserve.
Dogs
Mount Burdell Preserve is a popular dog walking destination.  Dogs are permitted to be under voice control or leash on the fire roads.