Log in to your account to record your visit to this Discovery Stop.
Log In
Discovery Stop
Novato History Museum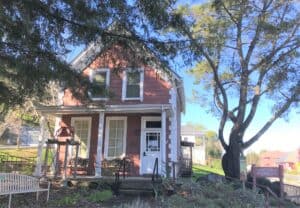 The Novato History Museum is located in Downtown Novato at 815 De Long Ave.  The main building is the 1850 Postmaster's House. The museum house is open to the public on Wendesdays, Thursdays and Saturdays from noon - 4:00 pm.  In addition, there are many things you can see by visiting the grounds.  See if you can find the old school bell that was used to signal the start of the school day.  There is also a collection of farm tools, household items and even a wagon you can see on the back porch.
In normal years, all of the third grade classes in the Novato public schools take a walking tour of Old Town Novato to learn about their community.  You can download their history tour map and docent guide to take your family on the same tour.  There is a surprising amount of old Novato history still visible in our downtown if you know where to look!  If you want to find out more about the Novato History Museum, you can visit their website.
If you want to walk
The Downtown Novato area has good sidewalks and traffic signals, and the terrain is not too hilly.  The total distance on the History Tour map is under 2 miles.  There are some busy streets in the area, so please keep small children close.  There are several stores, restaurants offering outside dining, coffee shops, and tasting rooms in the area.
If you want to bike
This is an area with a fairly high number of intersections and vehicle traffic, so keep that in mind.  There are plenty of options for bike parking, and even a couple of stores that cater to bike needs.
Parking considerations
Public parking is plentiful and free in Downtown Novato.  Most of the spots in the public lots and on the primary streets have a two-hour parking limit.  Also, please note that many of the spots directly in front of restaurants are limited to pick ups and deliveries.