Log in to your account to record your visit to this Discovery Stop.
Log In
Discovery Stop
San Marin High School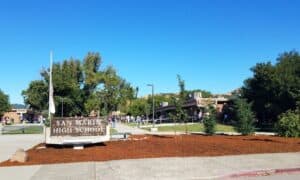 San Marin High School is located at 15 San Marin Drive on the north end of Novato. The high school was opened in 1967, as the building of the San Marin neighborhood brought a large population boom to the town.  San Marin is a comprehensive High School that also houses the award-winning STEM-Marin science and technology program.
The first principal of San Marin was Hank Morowski, and his name can still be found on the high school gym.  He remained an active participant in the community even after he retired.  You can read more about his interesting career and his impact on education in Novato in this obituary from December of 2020.
Thanks to the Measure G Facilities Bond that was passed in 2016, the San Marin campus has some exciting new changes.  The STEM-Marin program has a new building with dedicated classrooms, labs, and collaboration space for their work.  The school district has put together this video of the construction of this unique new facility.  There is also a brand new performing arts building, replacing a building that had been retrofitted, but never fully adapted for that purpose.  You can check out some photos of the construction progress on the Measure G bond information page of the NUSD website.
Please schedule your visit to the San Marin High campus after 3:00 pm on weekdays or on a weekend.
If you want to walk
The San Marin High School campus is located in a residential neighborhood with good sidewalk access.  There is also access to trails on Mount Burdell near the rear of the campus if you want to hike up for a bird's eye view.
If you want to bike
Bikes are permitted on paved pathways, but not on the lawn or athletic fields.
Parking considerations
The parking lot at San Marin High is mostly reserved for students and staff during the school day.  There is a small number of visitor spots located near the school office.
Dogs
Dogs are not permitted on campus.