Make a Donation
School Fuel Fundraising Page
We're raising money for the Visual and Performing Arts, Technology, and Health & Wellness programs in support of EVERY child in EVERY school in the Novato Unified School District..
Our Fundraising Goal is $5,000.
We've raised $2,370. That's 47.4% of our goal.


We have
17
participants.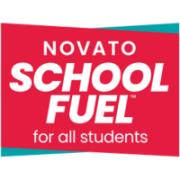 Participants Supporting School Fuel
Select a participant to make a donation. Search for a Participant.
Donations to School Fuel

Donor

Donation

Message

Wilson Family

$10.00

Mason Family: Thanks for joining the Tour. We're glad to have you.

Mencarelli Family

$25.00

Thank you for supporting our amazing SPED dept. & students!

The Grasser Family

$12.50

Thanks for everything you do for NUSD!

The Grasser Family

$25.00

Thanks for everything you do for NUSD!

Patty Hoyt

$25.00

Y'all never fail to amaze me!

Ericksen Family

$20.00

Janet Lawson

$15.00

Go Masons!

Aidan Gilkerson

$100.00

Deb Roney

$50.00

Thanks for participating McNear family

Blackman Family

$25.00

Blackman Family

$50.00

Tracy Smith

$100.00

Thrilled to give to School Fuel for all!

The Luis Family

$50.00

Thanks for all your support of NUSD schools!

The Kennedy Family

$100.00

The Elmhirsts

$250.00

Thank you for all that you do for our community!

Carole Hanson

$100.00

Thor and Carole Hanson support Novato schools always!!!

Mathews-Gilkerson family

$25.00

Go Team McNear!

Mathews-Gilkerson family

$10.00

Go Sadie!

Shelley Brown Vasquez

$100.00

Thank you, Susan!

Elizabeth Sleath

$200.00

Elizabeth Sleath

$50.00

Nerdin Family

$6.00

Tracee E.

$7.50

Second to last, here we come!

Kaci Barnhart

$30.00

Go Tracy!!

Regina Bianucci Rus

$50.00

Keep it up, Susan!

Marcy Sammons

$20.00

Hey Hey Sadie Mae By The Bay! I'm so proud of you! X0

Paula Dorfling

$24.00

You go girl!

Heather Ophir

$6.00

High five for all you do for the students of Novato, Ms. Walker!! 😁

Mom

$30.00

Woohoo Ericksen Family

Aimee Ransel

$15.00

Yay!

Allison Ward

$7.50

Good luck Tracy!!

Joyce Colenbrander

$100.00

🙂

The Chyrklund Family

$100.00

Anonymous

$12.50

Kate McNear

$7.50

Go Ericksen family!

Kate McNear

$5.00

Go Sadie!

Kate McNear

$25.00

Go Team!

Betsy Ross

$25.00

The Swansons

$12.50

Thanks for all you do!

Mathews-Gilkerson family

$15.00

Go Ericksen Family!!

Mrs. Nam

$6.00

Yeah Ellie and Owen! Have fun!!!!

John & Cathy Yee

$25.00

Thank you for all you do for Novato

Gahan Family

$100.00

Thank you Susan and family for all you do for Novato schools!!

Car Peck

$15.00

Thank you for riding!

Doug and Carol Kerr

$150.00

Go Team MG, 13 years shining

Moyer Family

$12.50

Thanks for participating!

Gary Melenyzer

$50.00

Have a great weekend

Alice and Bob Kauer

$20.00

Always want to help!

Ted & Bonne Gaebler

$100.00

what a great cause!

Gary Butler, State Farm

$50.00