Make a Donation
San Jose Middle School Music Fundraising Page
We're raising money for instruments, tuning current instruments, music sheets, clinics with musicians and participating in competitions. Thank you for your generous support. Come see us perform on Saturday, 13 May 2023 at Tour of Novato!.
Our Fundraising Goal is $1,500.
We've raised $1,897. That's 126.5% of our goal.


We have
7
participants.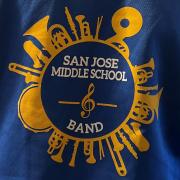 Participants Supporting San Jose Middle School Music
Select a participant to make a donation. Search for a Participant.
Donations to San Jose Middle School Music

Donor

Donation

Message

Cornelia Taylor

$25.00

Gerzon Chinchilla

$8.00

Jennifer Reid

$40.00

Good luck!

Minnie Carroll

$60.00

You are doing a great job!

The Sullivans

$40.00

Have a great time!

Anonymous

$100.00

For the love of music. Please keep playing. Thank you

Alan and Roberta Dunham

$120.00

Jeanne

$120.00

The Young Family

$50.00

Our children need music to feed their soul!

JENNIFER JAEGER

$50.00

Thank you for participating. Go Hamilton Hawks..

Williams Family

$200.00

Let's go!!!!

Barbara Williams

$150.00

Thanks for all the hard work that make schools successful!

Tim and Carol

$100.00

Enjoy the day - great cause!!

Cynthia McGregor O'Donnell

$40.00

Go Chinchilla family

Cynthia McGregor

$40.00

Go Chinchilla family

Leah Karp

$40.00

Keep up the good work!

Sande Dannehl

$20.00

Nissen Family

$100.00

Dale Family

$25.00

Good Luck!

Kirsten Beckwith

$80.00

Go David, Andres and Alejandra!

Robinson Family

$10.00

Best of luck!

Tency Chinchilla

$10.00

Good Luck.

Marlon chinchilla

$12.00

Shen Family

$100.00

Good luck!

Zoe Robinson

$20.00

The Hamiltons

$20.00

Everson Family

$20.00

Way to go!

Laura Rees

$60.00

Good luck!!

Falk Dina

$16.00

Hope you all have fun!

Josue G

$20.00

Let's go

Kary

$10.00

❤️

Barbara Rowe

$12.00

Kathy

$8.00

Good job!

Ody

$20.00

❤️

Anonymous

$20.00

Beltran Family

$25.00

Congratulations Williams Family!

Remsing Family

$50.00

BM

$20.00

Abner and Claire

$20.00

Great job!

T Ham

$8.00

Eileen Barry

$8.00

Good luck with fundraiser