Make a Donation
San Jose Fundraising Page
We're raising money for teacher classroom stipends, safety supplies, and campus beautification efforts.
Our Fundraising Goal is $5,000.
We've raised $1,713. That's 34.3% of our goal.


Our Participants Goal is
100
.
We have
5
participants. That's
5.0%
of our goal.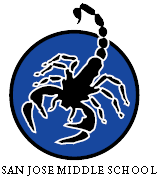 Participants Supporting San Jose
Select a participant to make a donation. Search for a Participant.
Donations to San Jose

Donor

Donation

Message

Jack and Megan Wien

$25.00

Good luck!

The Tabrizi family

$50.00

Thanks for being the wonderful person that you are!

The Hohman Family

$100.00

Go Ms. Eurgubian!

Rhaina Bagaygay

$25.00

Hamami Family

$50.00

Kathleen Hamilton

$25.00

Have fun

Elliot Kim

$30.00

Hassler Family

$20.00

Great job and have fun!

Lynne Slater

$20.00

Gougat's family

$20.00

Thank you for doing this! Have fun!

The Malone Family

$25.00

Michael Eurgubian

$50.00

Gillen Family

$20.00

Wishing you success!

Jeanne Wang

$90.00

Andrea Johnson

$30.00

Best of luck to you

Bill

$30.00

Falk Dina

$15.00

Have a great time!

sande dannehl

$15.00

Julie and Steve Soja

$45.00

Kirsten Beckwith

$90.00

Good luck!

Sree

$20.00

Thank you !

Minnie Carroll

$45.00

Friend of SJMS

$250.00

Go Scorpions!

Laura Rees

$37.50

Good luck!!

Isaias zavala

$20.00

Go Mrs. Eurgubian!

Lisa E

$45.00

T & J Simo

$7.50

Tanja Ross

$60.00

Good luck!!!

Mathews-Gilkerson family

$15.00

Thanks for all you are doing for this year's Tour of Novato!

The Reid's

$45.00

Thank you!

Claire & Abner Chinchilla

$15.00

Good luck!

Daniel/Kate Carson

$10.00

Go Lori!

Jenelle Dito

$15.00

Way to go Hope

The Cleary Family

$25.00

Thank you Ms. Fried!

The Cleary Family

$25.00

Thank you Ms. Ergubian!

Leech Family

$25.00

Good luck

Melanie Gutierrez

$6.00

Alan and Roberta Dunham

$90.00

Ryan and Hayden Dale

$50.00

The Lilledahl Family

$25.00

Good luck, Ms. Fried!!

Meghan P

$22.50

The Madarasz Family

$50.00

SJMS Teachers Rock!

Elias Cuevas

$6.00

❤️

Catherine

$22.50

Kathy

$6.00

Good luck