Log in to your account to record your visit to this Discovery Stop.
Log In
Discovery Stop
Novato High School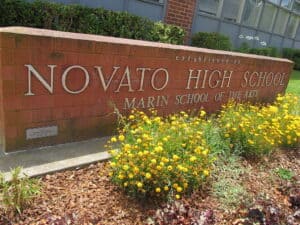 The Novato High School is located at 625 Arthur St.  The red brick buildings are from the original 1955 structure, which was the first high school built in Novato.  Before that, students growing up in Novato had to travel to San Rafael to attend high school.
Today, Novato High School is a comprehensive high school serving over 1,000 students.  It is also the home to the Marin School of the Arts, a multi-disciplinary arts program founded in 2004.
Thanks to the Measure G Facilities Bond that was passed in 2016, the Novato High School Campus has several facility upgrades that bring this historic campus into the twenty first century.  As you walk toward the back of the campus, you will be able to see the new Center for the Arts, which includes a theater for public performances as well as teaching spaces, the new Center for the Sciences with up-to-date lab spaces, and new athletic fields.  The school district has put together this video showing the building of the new Center for the Sciences.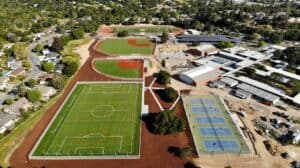 Please schedule your visit to the Novato High campus after 3:00 pm on weekdays or on a weekend.
If you want to walk
The Novato High School campus is located in a residential neighborhood with good sidewalk access.  There is pedestrian access from both Arthur Street and Washington Street.  Walking on the rubberized track is permitted in evening hours as long as there is not a student game, meet or practice in progress.
If you want to bike
Bikes are permitted on paved pathways, but not on the lawn or athletic fields.
Parking considerations
The parking lot at Novato High is mostly reserved for students and staff during the school day.  There is a small number of visitor spots located near the front of the Arthur parking lot.
Dogs
Dogs are not permitted on campus.