Make a Donation
San Jose Fundraising Page
We're raising money for teacher classroom stipends, safety supplies, and campus beautification efforts.
Our Fundraising Goal is $5,000.
We've raised $6,468. That's 129.4% of our goal.


Our Participants Goal is
100
.
We have
21
participants. That's
21.0%
of our goal.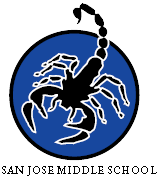 Participants Supporting San Jose
Select a participant to make a donation. Search for a Participant.
Donations to San Jose

Donor

Donation

Message

Lucy Madarasz

$100.00

SJMS Teachers Rock!

August Larsen

$25.00

Happy DePalma

$100.00

Thank you Lori for all you do.

Lucy and Tessa

$15.00

Thank you for all that you do!!

Leticia & Isabella Meneses

$20.00

Thank you for all your hard work!

Poncia Family

$50.00

Thank you for all you do!!

The Jayme Family

$50.00

Got get em!

Reyes Family

$100.00

Have a fun ride and thank you for participating on behalf of SJ middle School!

Sarah & Coen

$25.00

Thank you for being a community leader!

Hope's Folks

$100.00

Thank you!

Dylan Procopio

$50.00

Have Fun!

Zoie Halsing

$25.00

Thank you for supporting us both in and out of the classroom

the goobs

$75.00

Anne-Marie McMahan

$20.00

Go San Jose!

Asghar and Linda

$100.00

Doug and Aimee

$100.00

Lindsay Oh

$25.00

Dale Family

$50.00

Thank you!

Dale Family

$25.00

Thank you!

Lucy Madarasz

$100.00

SJMS Principals Rock!

Jim

$100.00

Andrea and Robert

$50.00

Happy to support you anytime!

Sharon Casey

$12.50

Supporting our local schools

Mrs. Nam

$5.00

Yeah Will! Have fun out there!

Susan Soderlind

$150.00

Anonymous

$100.00

Mrs. Nam

$5.00

Go Oliver!!!! Have fun out there!

Carson family

$100.00

Poncia Family

$50.00

Thank you for all you do!

Rauch Family

$100.00

Go SJMS!!!

Leech family

$250.00

The Cleary's

$50.00

Thank you SJMS!

The Cleary's

$50.00

Thank you!

De León Boleres Family

$100.00

Thank you!!!

Beckett Smith

$50.00

Thank you for all you do - in & out of the classroom!

Betty and Jim Biese

$20.00

Always willing to support a good cause for family!

Hope's Folks

$80.00

Thank you! Have fun, ride hard!

Poncia Family

$40.00

Thank you for all you do!!

Hailey K's Squad

$20.00

Ride on!

The Welke Family

$40.00

Thanks for all you do for our community and have fun!

Cary Sparks

$25.00

Good touring!

Deborah Richardson

$10.00

Thank you for your leadership!

pamela eichhorn

$25.00

The Cleary's

$25.00

Thanks for all you do!

Roland J Galli

$25.00

Jeff

$50.00

Good luck Haven!

The Tabrizi family

$40.00

Thanks for all that you do! Ride on & have fun! 🙂

Mrs. Nam

$3.00

YAHOO! Go Samantha, William & Charlie!

Lucy Madarasz

$50.00

SJMS Families Rock!

Lucy Madarasz

$20.00

SJMS Families Rock!

Lucy Madarasz

$20.00

SJMS Families Rock!

Lucy Madarasz

$10.00

SJMS Families Rock!

The Hutchinson's

$40.00

Good luck.

Rauch Family

$80.00

Go SJMS!!!

The Defreese Perri Family

$5.00

Go Rancho!

Kirsten Beckwith

$90.00

Go David, Andres and Alejandra Chinchilla!

Dianna & Chad

$50.00

Mandy Waite

$100.00

Go Haven! Proud of you!

Margaret and Mikey

$100.00

You go Haven!

Jennifer Reid

$45.00

Good Luck!

Joseph and Audrey Kobayashi

$40.00

Good Luck!

Susan Mathews

$20.00

Thanks for all you are doing to make this year's Tour happen! Love your spirit!

Jeanne

$90.00

Roberta duncan

$45.00

Thank you

Debi Richardson

$5.00

Thanks for your leadership!

Kate and Parker Lee

$100.00

The Hamiltons

$15.00

The Ternlund Family

$50.00

Go, Mrs. Eurgubian!! Pedal power!!!

Baraban Family

$10.00

See you out there!

Baraban Family

$10.00

Thanks for all you do for SJMS!

Trish

$30.00

👏🏼

Team Takahashi

$5.00

Thanks for supporting our schools!

Lisa Westin

$25.00

Lisa Westin

$25.00

Warne family

$50.00

Go SJMS!

Warne family

$50.00

Go SJMS!

Dryden Capital Inc.

$50.00

Kathline Dorado

$50.00

In support of Haven and Samuel O'Halloran's hard work.

Linda O'Connor

$12.00

Nan is proud of you all!

Peter & Diane

$12.00

Happy to help!!

The Pena Family

$20.00

Thank you

The Pena Family

$30.00

Thank you

Kristine Cain

$7.50

Hope this helps, Ody!

Mrs. Hession

$15.00

Have fun!!

Hession Family

$7.50

Have fun!!

Mom & Dad

$100.00

Way to go Kurt! We are so proud of you!

Tom Nangle

$100.00

Good luck on the ride

Susan Nangle

$100.00

Goooooooooo Kurt!

Hanin Hamami

$20.00

Thank you for supporting our school. Best of luck to you 😊👏🏼

Gretchen tara

$4.50

For the twins!

Mom & Dad

$100.00

Love you Sahana!

Sean mad Sonja Saylor

$100.00

jennifer campbell

$8.00

Julia, Amade, Anthony

$25.00

Good luck on raising the money Kurt!

Michele D Edler

$50.00

Great Job, Curt!

Nana and Papa Jack

$20.00

Good luck Cash

Kathy

$16.00

Good job Cash!

Jeanne Friedel

$25.00

Yay Kurt! Way to go.

Teri

$7.50

Right up my alley! Keep your creative juices flowing!!

Linda and Marstin

$20.00

Way to go, Cash!

Mrs. Richardson

$5.00

Who is this San Jose Student?

Dennis & Nancy

$20.00

Happy Biking!

Anonymous

$50.00

Go TEAM BARABAN!

Oma

$40.00

Bike on, Cash🚴‍♀️

Minnie Carroll

$30.00

Great job! Have fun!

Cassie Malone

$10.50

Good job, kids!

Jeanne Smith

$25.00

Happy to Donate!

J & T

$9.00

Mrs. Richardson

$10.00

Thank you, Ms. Mastro

Pushpa Rajendran

$100.00

Awesome!!!

Reva Rao

$20.00

Good luck with your fundraising!

Lucas Reyes

$25.00

Grandma and Grandpa

$8.00

Good job Cash!

Jennifer Arrighi

$10.00

Go Blackman's!

Linda Asbee

$10.00

So proud of Darci and happy to help!

Heather & Viktor

$50.00

Go Rancho and and SJM!

Madhavi

$50.00

Best wishes Sahana!

Laura Rees

$30.00

Good luck!!

Gina and Mike Krause

$15.00

Great job Kurt!!

William Ross

$45.00

Kathryn Hansen

$25.00

In honor of Marin Ballet

Falk Family

$7.50

Good luck!

Nana & Papa

$100.00

Keep Riding Kurt

Abner and Claire Chinchilla

$9.00

Anyra Papsys

$50.00

Go Heather! (And Svea and Oliver!)

Kathy&Rich Wright

$9.00

Good to have pride in your schools!

Moxie Jacobs

$20.00

Go Nina!

Angela Bailey

$12.50

Way to go! 🙂

Fullerton/Parson Family

$25.00

Yay!!!

Kathryn Hansen

$20.00

Hope you enjoyed the Discovery Spots

Hood Thomas Architects

$75.00

The Hannan Family

$50.00

Thank you for all you do for SJMS!

Melanie

$9.00

😃

Tency Chinchilla

$7.50

Becky Miller

$15.00

Catherine Sammis Hunsaker

$100.00

Thank you for caring about our children!

Alan & Roberta

$90.00

Yay for your team - Go Kids

Rudy Cisneros

$6.00

Marlon chinchilla

$15.00

Meghan Potter

$15.00

Barbara Rowe

$12.00

Barbara Rowe

$12.00

Josue G

$30.00

😃

Rachel Tallant

$50.00

EJ Interior Design

$50.00

Go team Nelson!

anonymous

$250.00

Rosa G

$30.00