Make a Donation
Loma Verde Fundraising Page
We're raising money for getting aides into our classrooms. We are so excited to have our school participate in this year's Tour of Novato. Let's get out there and have fun LOMA VERDE families and let's try and reach this goal!.
Our Fundraising Goal is $6,000.
We've raised $5,367. That's 89.5% of our goal.


We have
18
participants.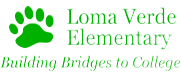 Participants Supporting Loma Verde
Select a participant to make a donation. Search for a Participant.
Donations to Loma Verde

Donor

Donation

Message

Virginia & Peter Jozwik

$100.00

We support the Cavanaugh Family & Loma Verde

Dales

$50.00

Thank you!!

Your biggest fan

$50.00

Way to go, Brendan!

Brendan Gianino

$25.00

Go Mrs. Pfeifer!!

Brendan Gianino

$25.00

Go Mrs. Perron!!

Brendan Gianino

$25.00

Go Mrs. Cheema!!!

The Boujebha Family

$25.00

Go Cheemas and Loma Verde!!

Isabella Cavallero

$20.00

Ride like the wind!

Melisa Kratky

$75.00

We support Mrs.Hanley and Loma Verde

Poncia Family

$50.00

Thank you for all you do!

Poncia Family

$50.00

Thank you for all you do!

Poncia Family

$50.00

Thank you for all you do!

Ayla Cohen

$50.00

Go Mrs. Perron!!!

Tariq Cheema

$100.00

Love you Zainyjaani, you are Mashallah the best.

Jaxon Paterson

$50.00

Go Mrs.Perron!

Nancy Lubamersky

$25.00

Go Cheemas and Go Bears!

Homaira Hosseini

$100.00

Go Cheema's! Am I winning? Do I get to be in the family photos now?

Helio Alves Jr.

$25.00

Go Mrs.Hanley!!!!

Rafa Alves

$25.00

We love you!!!

Helio Alves Jr.

$15.00

Go Brendan Go! You can do it.

Isla Walters

$250.00

Go Ms Vega Go!!

Kimberly Castillo

$50.00

Go Loma Verde!

The Clearys!

$50.00

Thank you Mrs. McCormish!

The Clearys

$50.00

Thank you Mrs. Cheema!

The Cleary's.

$50.00

Thank you Ms. Hanley!

Ameenah Cheema

$500.00

Go, Zainy Bhai, go! I hope one day I'm just as fast as you iA!

Rayhan Sharma

$75.00

Run as fast as the fastest dinosaur, Zainy! Then tell me which Dino it is. Go go go!

The Iqbals

$25.00

Drew & Luke Shelton

$25.00

Go Mrs. Cheema - we miss you!

Angela

$50.00

Lets go Mata Family

Charly FG

$50.00

Go Ms. Hanley!

Bren

$50.00

Yay Ms. Nyquist!!!

The Vandermice

$100.00

Way to Go Enzo and Ms. Vega!!!!

Martinez Family

$100.00

Mack Family

$50.00

Forever a Loma Verde Bear's Family!

Connie Castillo

$50.00

Stay Safe and Happy

Julie Mark

$50.00

Thank you Ms. Reed and Loma Verde!

Julie Mark

$50.00

Thank you Ms. McCormish for all you do!

Julie Mark

$50.00

Thank you Ms. Pfeifer!

Mathews Gilkersons

$50.00

Yay for music!!

Aracely Vasquez

$20.00

Barbara Burmaster

$50.00

Three cheers for "Mrs." & Zain!!!

Uncle Darin and Uncle Brian

$250.00

Tehniat Cheema

$10.00

Thank You!

Tehniat Cheema

$10.00

Thank You!

Tehniat Cheema

$10.00

Thank You!

Tehniat Cheema

$10.00

Thank You!

Tehniat Cheema

$10.00

Thank You!

Tehniat Cheema

$10.00

Thank You!

Tehniat Cheema

$10.00

Thank You!

Tehniat Cheema

$10.00

Thank You!

Tehniat Cheema

$10.00

Thank You!

Tehniat Cheema

$10.00

Thank You!

Tehniat Cheema

$10.00

Thank You!

Tehniat Cheema

$10.00

Thank You!

Tehniat Cheema

$10.00

Thank You!

Tehniat Cheema

$10.00

Thank You!

Tehniat Cheema

$10.00

Thank You!

Tehniat Cheema

$10.00

Thank You!

Nick Fiscalini

$20.00

Go Ms. Vega and Enzo!!!

Nick Fiscalini

$20.00

Go Janssen Castillo family!

Nick Fiscalini

$20.00

Woohoo Zain and Mrs. Cheema! Go Bears!

Nick Fiscalini and family

$20.00

Thanks Cavanaugh family!

Nick Fiscalini and family

$20.00

Go Seatavakin family!

Henry Rodas

$20.00

Go Ms.Tokarski

Liz Hayles

$25.00

Go Loma Verde!

ilham Hosseini

$150.00

Best wishes, Zain & Ms. Cheema!

Cristy Pollak

$50.00

Hooray for Super Novato Teachers like Ms. Reed

Kristin Johnson

$10.00

Rob McCormish

$250.00

Laura Hoard

$100.00

I love you!

V-Dawgu$

$30.00

McIntyre Family

$100.00

Go Cheema Family!!!

Janice Schulz

$50.00

Thank you for all you do!!!

Janice Schulz

$50.00

Thank you for all you do!!!

The Rosa Family

$25.00

Go Remsings!

The Rosa Family

$25.00

Thanks for your support! Have a great ride!

Caleb & Mia Seatavakin

$10.00

Go Luke! Go Beth!!

Caleb & Mia Seatavakin

$10.00

Go Zain!!

Rod and Nancy Hall

$40.00

Great job!

Grandma and Grandpa Gianino

$100.00

Go Brendan go

Dee + Denny

$50.00

Mom and Dad are always there for you.

Moxie Jacobs

$10.00

Go Ms Reed!

Natalia Shorten

$100.00

Natalia Shorten

$100.00

Ms. K

$15.00

Go Loma Verde!

Auntie Lisa and Uncle Mike

$35.00

Hope you have a successful fundraiser. GO BEARS!

Cat

$25.00

Have a great ride!

Auntie Marv

$40.00

Go Bears! We love you, Cristin, Caelyn, Carol, & Ed! Have fun!

Tertei

$50.00

Thank you Mrs. McCormish!

The Robinsons

$25.00

Wardah Siddiqui

$50.00

I hope you reach your goal!!

Laura and David Trahan

$250.00

Thank you for all that you have done for kids.

Landon and Lily Tebben

$50.00

Go, Ms. Perron!

Landon and Lilian Tebben

$50.00

Go, Ms. Vega!

Landon Tebben

$50.00

Go, Ms. Tokarski!

Jake McAlister

$100.00

Congrats Mrs. Pfeifer! We love you

Maryam and Musa Cheema

$82.00

Go Zainy! We love you